---
S2301 BRASS BALL BIBCOCK
---
The valve is used to open and close the pipeline, control the flow direction, adjust and control the transmission medium parameters
Kitchen faucet / Water purifier faucet

---
The valve is used to open and close the pipeline, control the flow direction, adjust and control the transmission medium parameters (temperature, pressure and flow) of the pipeline accessories. According to its function, can be divided into shut-off valve, check valve, regulating valve and so on.
Valve is the control component in the fluid delivery system, with cut-off, regulation, diversion, prevent countercurrent, pressure, shunt or overflow pressure relief functions. Valves for fluid control systems range from the simplest globe valves to the most complex automatic control systems used in a wide variety of varieties and specifications.
Valves can be used to control air, water, steam, all kinds of corrosive media, mud, oil, liquid metal and radioactive media and other types of fluid flow. Valve according to the material is also divided into cast iron valves, cast steel valves, stainless steel valves (201, 304, 316, etc.), chromium molybdenum steel valves, chromium molybdenum vanadium steel valves, biphase steel valves, plastic valves, non-standard valves, etc.
sizes:1/2"-1"
Male threads
Lever handle in aluminium
Introducing the Brass Ball Bibcock, a versatile and durable plumbing fixture designed to provide reliable water control in various applications. Crafted from high-quality brass, this bibcock is built to withstand the test of time and deliver exceptional performance.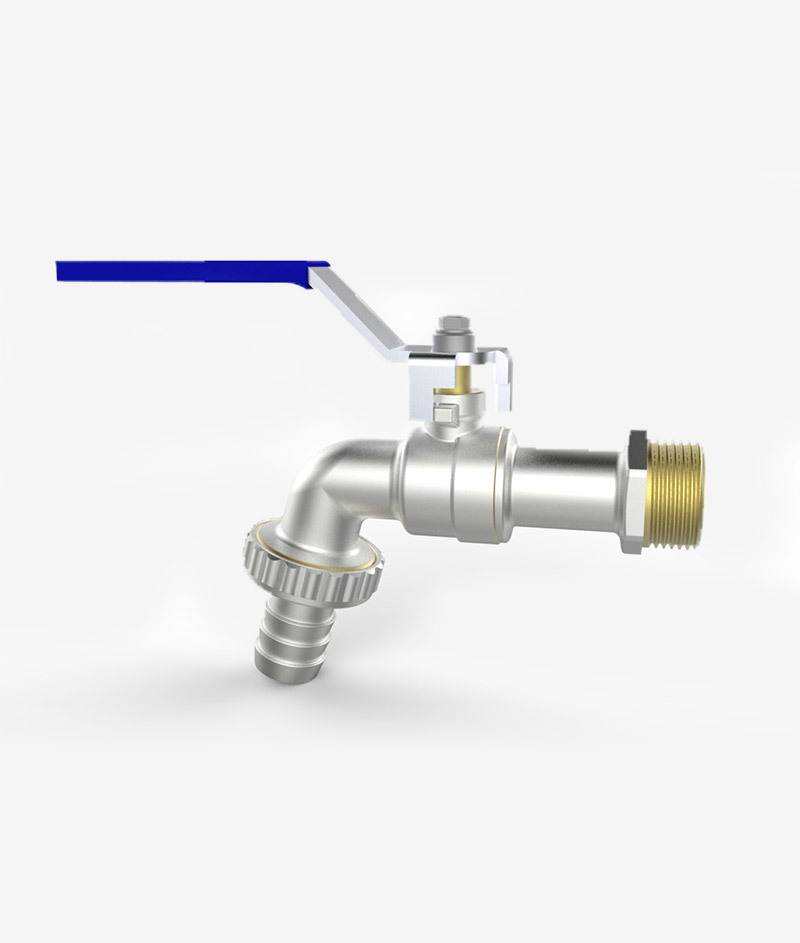 The Brass Ball Bibcock features a robust brass body that ensures durability and corrosion resistance. Its solid construction guarantees long-lasting reliability, making it suitable for both indoor and outdoor use. Whether for gardens, washrooms, or industrial settings, this bibcock is designed to meet your water control needs.
Equipped with a precision-engineered brass ball valve, this bibcock offers smooth and precise operation. The rotating ball mechanism allows for effortless on/off control and precise water flow adjustments. Say goodbye to leaks and drips with this reliable and efficient bibcock.
Installation is simple with the standard 1/2 inch inlet and outlet connections of the Brass Ball Bibcock. It seamlessly integrates into most plumbing systems, making it convenient for new installations or replacements.
Enhance your water control system with the Brass Ball Bibcock, a reliable and durable plumbing fixture that guarantees optimal performance. With its corrosion resistance, precision operation, and easy installation, this bibcock is the perfect choice for ensuring efficient water control in any setting.
S2303 HEAVY ALUMINIUM HANDLE BRASS BIBCOCK
Message
Looking forward to communicating with you, a demand is the beginning of our understanding of you, but also the beginning of our establishment of cooperation.